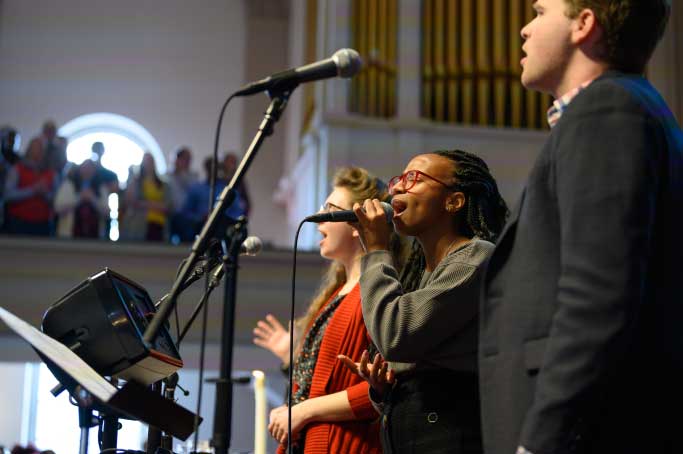 In-Person Worship services
No health screening or pre-registration required for regular worship attendance.
Pre-registration for children's programming required. Read below for details on Family Ministry pre-registration.
We are excited to welcome you back to our church building to worship together! The following information is intended to help us transition to in-person worship as smoothly as possible:
SUNDAY SERVICE GUIDELINES
These guidelines were developed and approved by the Reopening Work Group (ROWG) after considering many factors. The ROWG received counsel from the Medical Task Force (MTF) as well. The ROWG comprises five staff, two elders, and one member of the MTF. The ROWG will continue revisiting these guidelines and make further adjustments as needed.
We have opened the 8:30 AM, 11:00 AM, and 4:00 PM services to all worshipers as of MAY 30.
Masks are not required, but the MTF advises all who are unvaccinated (including ministers, choir members, ushers, greeters, adults, and children) to wear masks during the services and at all times while in the building.
There will be no social distancing required on the floor of the sanctuary, though this may be practiced as attendance allows.
The balconies will be reserved for socially distanced seating and for those wearing masks.
The Fellowship Hall will be open as an alternative place for worship. The service will be streamed and masks will be worn and social distancing will occur.
Singing will occur throughout the services on the floor and balcony of the sanctuary but not in the Fellowship Hall.
Stay-at-home or outdoor virtual worship will be supported. If you are gathering in a group to worship virtually and would like support, please contact us.
The Welcome Center will be used before, between, and after services for fellowship.
No pre-registration will occur for worship attendees, but families will be required to pre-register in Realm if planning to use Children's Church and Nursery to ensure we have proper staff and volunteers to care for our children.

See the Family Ministry statement below for more information.

The facilities are available for use by ministries of the church. As always,

 

space must be requested from and approved by the Facilities staff

 

prior to use. Please

 

contact them here

 

to request space.
Family Ministry has reopened all regular summer Sunday programs at limited capacities. We will have one nursery available for ages 0–2 and Children's Church (8:30 AM — ages 3 to 6) (11:00 AM and 4:00 PM — age 3 to Grade 3) at all three services. Pre-registration is required for your children to attend. You will pre-register your children through Realm, similar to how pre-registration for services has been happening. You can register by clicking on one of the links below. Registration closes on Friday evening.
Registration Links for July: (no children's programs on July 4)
SUMMER COVID GUIDELINES
Children must be pre-registered (registration closes the Friday before)
There will be no health screening form.
If your child presents symptoms or tests positive for Covid after attending a family ministry program, please contact Adam Herndon.
Nursery-aged kids are not required to wear masks.
We ask that all non-vaccinated children attending Children's Church wear a mask as recommended by our Medical Task Force.
Per EEC guidelines, Nursery and Children's Church volunteers are still required to wear a mask.
When you arrive to the church, please go to the Family Ministry check-in area to get child tags and parent security tags.
A note from the Medical Task Force to the congregation:
Dear Fellow Park Streeters,
It has been a long time of being away from each other in worship and other vital activities of our Park Street community during this pandemic. Our congregation has been blessed to continue in worship some in person and some virtually and all safely, by God's grace! We are grateful to be returning to in-person worship services. In light of regathering, we offer the following information in support of our fellow congregational members.
We believe that it is safe for vaccinated individuals to regather for normal worship and other church activities in light of declining numbers of Covid-19 cases and deaths in Massachusetts, with recent rapid improvement due to vaccinations.
We urge all congregants to not delay in seeking vaccination. The vaccination of one person in our community contributes to the health of our whole community.

The Covid-19 vaccines have been rigorously tested using the best available science without cutting corners. After examining the evidence, we have full confidence that the vaccines are trustworthy and safe.
The vaccines are highly protective from multiple strains of the virus.

At this time, with regard to in-person worship and activities:

We advise all unvaccinated people to wear masks while in the church building.
Vaccinated people need not wear masks, although they are welcome to continue wearing masks if they wish.

When singing, unvaccinated attendees are not protected from sending or receiving aerosolized virus even when wearing a mask.

We recommend that immunocompromised people and unvaccinated people who want to come to church but are concerned about aerosols generated by singing, worship in a space reserved for them during services. In this space, all congregants can sit together to watch the live streamed service. They will all wear masks, sit distanced from each other and will not be singing.

Getting a vaccine will speed our return to normal here at Park Street, while protecting those who cannot get vaccinated or are immunocompromised.
If congregants have additional questions about the safety or efficacy of the Covid-19 vaccines, as fellow congregants and followers of Jesus, we are available to answer questions or concerns. For more information about Covid vaccination, please see the health information from the CDC.