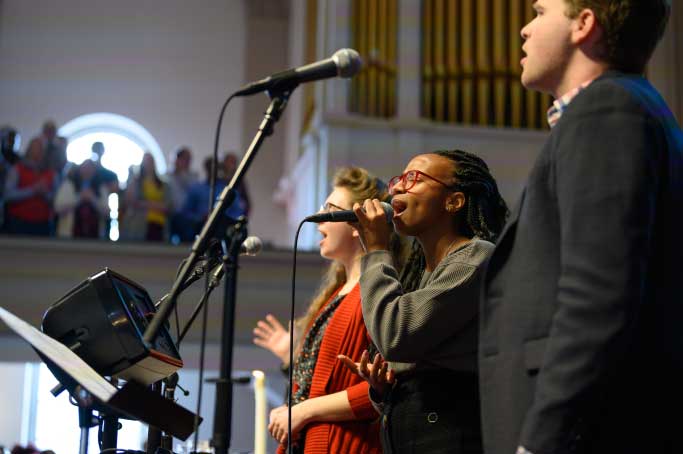 In-Person Worship services
*Please note a few changes to our in-person service protocols in light of recent developments with the delta variant of COVID–19.
Registration for children's programming is required to ensure appropriate staff and volunteers to care for our children. Read below for details on Family Ministry pre-registration. Registration is not required for Sunday School Classes/Christian Education.
8:30 AM WORSHIP SERVICE  masks required
Masks are required at this service, and we will have masks on hand for any who may need a mask to come into the 8:30 AM service. This enables us to provide one service where the unvaccinated (including, of course, children under the age of 12) can worship with the added protection of everyone wearing masks. 
Balcony seating will be reserved for those who in addition to wearing masks, prefer socially distanced seating. 
Childrens' Church (ages 3–6)
Nursery (ages 0–2) *pre-registration is required for both Children's Church and Nursery (see below)
11:00 AM & 4:30 PM WORSHIP SERVICES  masks optional
Masks at these services are optional, although attendees are very welcome to wear masks. The Park Street Church Medical Task Force also advises all who are unvaccinated (including ministers, choir members, ushers, greeters, adults, and children) to wear masks during the services and at all times while in the building.
Balcony seating will be reserved for socially distanced seating and those wearing masks.
Fellowship Hall–The 11 AM & 4 PM services will be streamed to the Fellowship Hall as an alternate space to worship. Attendees will observe masking, social distancing and no singing.
Childrens' Church (age 3–grade 3)
Nursery (ages 0–2) *pre-registration is required for both Children's Church and Nursery (see below)
STAY-AT-HOME or OUTDOOR VIRTUAL WORSHIP
The 11 AM and 4 PM worship services are livestreamed here. 
If you are gathering in a group to worship virtually and would like support, please contact us.
Family Ministry has reopened most fall Sunday programs at limited capacities. We will have one nursery available for ages 0–2, Children's Church (8:30 AM — ages 3 to 6) (11:00 AM and 4:00 PM — age 3 to Grade 3), and Sunday School/Christian Education at all three services. Registration is required for your children to attend nursery or Children's Church.  To register, please click on the button below which will direct you to our Family Ministry page where registration links are available. Registration closes on Friday evening.
COVID GUIDELINES
Children must be registered for nursery and children's church (registration closes the Friday before)
Nursery-aged kids are not required to wear a mask. Children with disabilities, sensory, or other medical conditions are also not required to wear a mask.
All children ages 3-18, are required to wear a mask in all family ministry programs as recommended by our Medical Task Force.
All Nursery and Children's Church volunteers are required to wear a mask.
When you arrive to the church, please go to the Family Ministry check-in area (Ockenga Lobby) to get child tags and parent security tags.
If your child presents symptoms or tests positive for Covid after attending a family ministry program, please contact Adam Herndon.