Life of the Church
SUNDAY, NOVEMBER 27, 2022
Note: Our Events webpage is currently experiencing technical difficulties. Until then, here are a few important upcoming dates.
Happy Thanksgiving & Senior Minister Video Update
We'd like to wish you a very happy Thanksgiving! In case you missed it, here is a video update from our Senior Minister, Mark Booker, that went out earlier today.
Important Dates
SUN, NOV 27 | First Day of Advent | Devotionals available 
SUN, DEC 11 | 7:00 PM | A Festival of Nine Lessons & Carols 
MON, DEC 19 | 7:00 PM | Blue Christmas 
SAT, DEC 24 | 3:00, 5:00 & 7:00 PM | Christmas Eve Services 
SUN, DEC 25 | 11:00 AM | Christmas Day Service
SUN, JAN 1 | 11:00 AM | New Year's Day Service
Advent Devotionals Available
Pick up your copy of Park Street Church's Advent Devotional after the service, or visit parkstreet.org/advent to view daily entries.
A Festival of Nine Lessons & Carols | Sun, Dec 11 | 7:00 pm
A traditional service with music sung by the Sanctuary Choir and Congregation, and accompanied by the Park Street Orchestra. Seating limited to sanctuary; please register for childcare.
New Small Groups Open House | Sun, Dec 4 | after the 11:00 am & 4:00 pm services
Downtown, Cambridge/Somerville and SW Boston/Brookline Regions
Join us for lunch after the 11:00 AM service (6th floor Conference Room), or for dinner after the 4:00 PM service (Common Room) if you are interested in joining or helping to form a new small group in one of these regions.
November Budget Update
The congregation approved budgets for both M&O and Missions last February. Through early November expenses are under control and giving to both M&O and Missions is pretty much equal to last year. We rejoice in that.
While the giving trend is positive, remember that giving tends to be seasonal, with a substantial increase in giving needed in the last two months of the year to finish the year in balance for each of our budgets.
Each year more than one-quarter of the annual budgets are funded by gifts given in the month of December alone. This means that giving in December is typically four times the amount in the average prior month of the year. The accompanying chart shows the needed giving as we approach the end of the year. The most important thing to remember is that God loves a cheerful giver. May each of us give as we are led.
Please also remember that gifts intended for Missions must be designated or identified as such – so when you give to Missions please make sure to note that in the memo line whether online or on the check.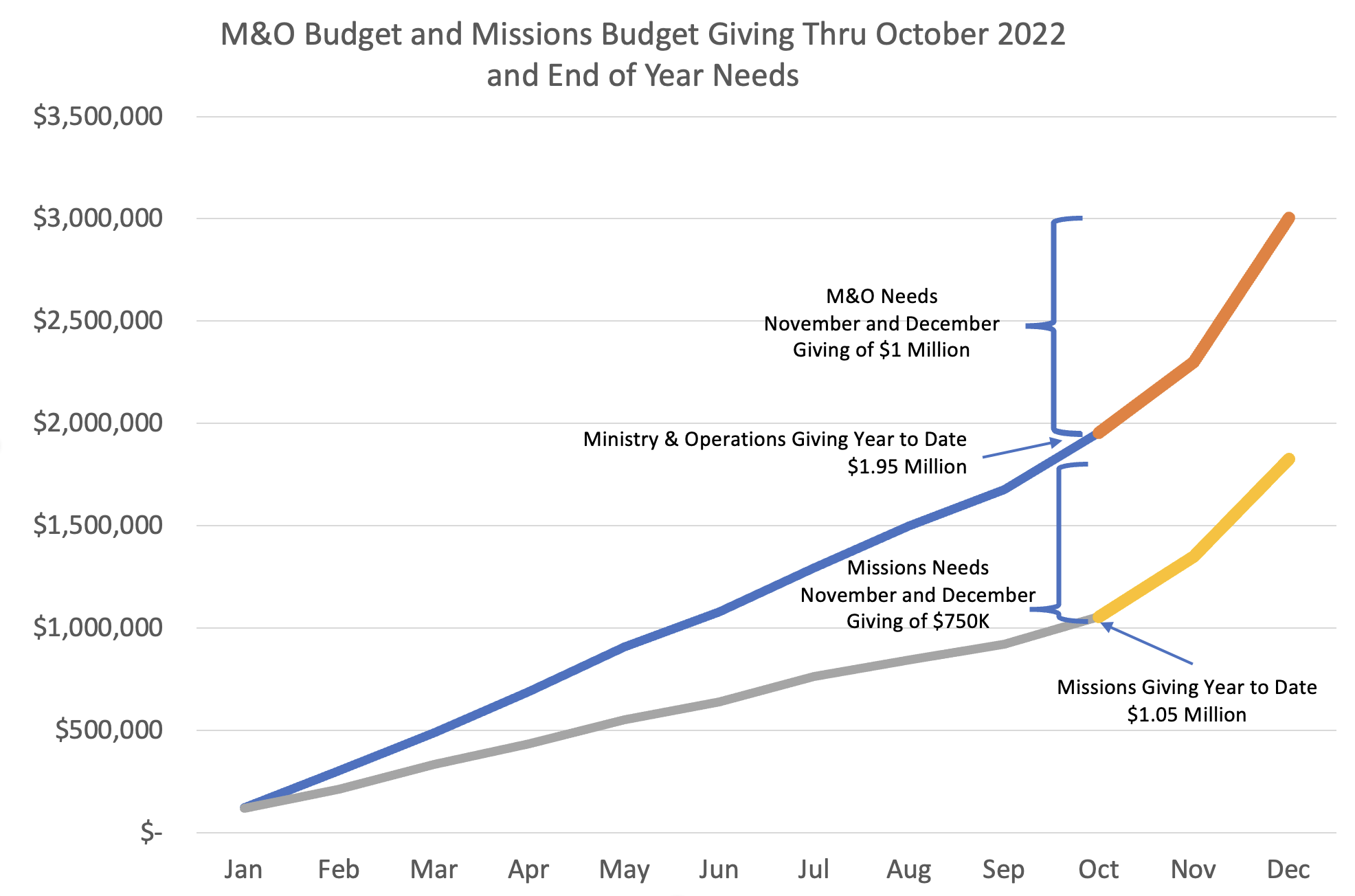 Christian Formation Next Steps: Continue to Cultivate the Soil of Your Heart | Sun, Nov 27
SUN, NOV 27 | 9:45 AM & 5:45 PM
What next steps will you take after our missions conference? Join an interactive, informal class to process what you heard, to listen to what God is saying to you, and to consider ways you can actively serve locally and globally.
Led by Julian L.
Location: Fellowship Hall
Christian Formation: Growing Stronger in Christ
SUNDAYS, NOV 20–FEB 19 | 9:45 AM
An in-depth study of Paul's magisterial letter: Ephesians
The goal of the class is to expand our understanding of the nature of the salvation that Jesus has achieved for us and to discover how this letter can shape our identity of who we are in Christ and to each other as a community of God's people.
The class will meet on Sundays at 9:45 am, starting on SUN, NOV 20, 2022 and ending on SUN, FEB 19, 2023. The class won't be meeting on Christmas or New Years' Day. Location will be announced soon.
Christian Formation: JOY!! It's not just meant for Christmas | Sun, Dec 4, 11 & 18
SUN, DEC 4, 11 & 18  | 9:45 AM & 5:30 PM | Fellowship Hall (AM) Granary Room (PM)
How might your life be different if you knew your brain was fueled by joy? Please come and see how the ancient truths of Scripture are being acknowledged by modern science. Learn how we as a church can help each other experience more joy towards the Lord, toward each other and toward a world that is so in need of it. The joy of the Lord is indeed our strength!
Global Missions Conference 2022 Survey & Next Steps
Thank you for participating in the Global Missions Conference 2022: Seeds of the Kingdom. We hope you were encouraged by the stories you heard; that you feel more informed about Park Street's outreach; and that you are ready to take your next steps in global missions. We would greatly appreciate your feedback about the conference so that we can make next year's conference even more meaningful. Survey responses will be received through DEC 15.
Park Street Church Library
Consider stopping by Park Street Church's library, where you can find many resources including Christian magazines, DVDs, and of course, books! Our book sections include children's books, theology, biographies, Bible studies, fiction, and devotional texts. The library is open (right off of the Welcome Center) most Sundays from 9:30 AM-4:00 PM.
Bilingual Volunteer Needed at East Boston Food Pantry
The Central Assembly of God Food Pantry in East Boston seeks a fluent Spanish/English speaker to help with check-in for their Spanish-speaking clients, Monday afternoons. Please contact Pastor Joe Corrigan: 781-518-1329 or [email protected].