Closed Accordion
This accordion is closed and hidden to make it so that the other two start out closed. – Randall
Sunday in Person
Join us at 8:30 AM, 11:00 AM, or 4:00 PM.
We believe that God is uniquely present with us when we meet for worship on the Lord's Day, forming and shaping us into the image of his Son through word and sacrament. Each week, we are grounded again in the true story of God's word, a story that moves from creation to new creation and that has the life, death, and resurrection of Jesus at its center. We read from God's word, we listen to a sermon preached from God's word, and we respond to God's word in praise, testimony, prayer, and giving. We also regularly participate in the sacraments of baptism and communion, gifts that Jesus gave to the church to communicate God's love and grace to us.
Family Ministries Guidelines
Nursery is available for ages 0–2 and Children's Church for ages 3 to Grade 3 at all services, and Sunday School/Christian Education at all three services. Registration is no longer required for your children to attend nursery or Children's Church. Check-in is necessary to participate in Children's Church, Nursery, and Sunday School. All Family Ministries programming is mask–optional. When you arrive to the church, please go to the Family Ministry check-in area (Ockenga Lobby) to get child tags and parent security tags. 
Sunday Online
The 11 AM and 4 PM worship services are available via our livestream page, here. If you are gathering in a group to worship virtually and would like support, please contact us.
WE'RE GLAD YOU'RE HERE 
We look forward to getting to know you better! A great first step would be to let us know that you're new to the church. Take a moment and fill out the form below and we will be in touch.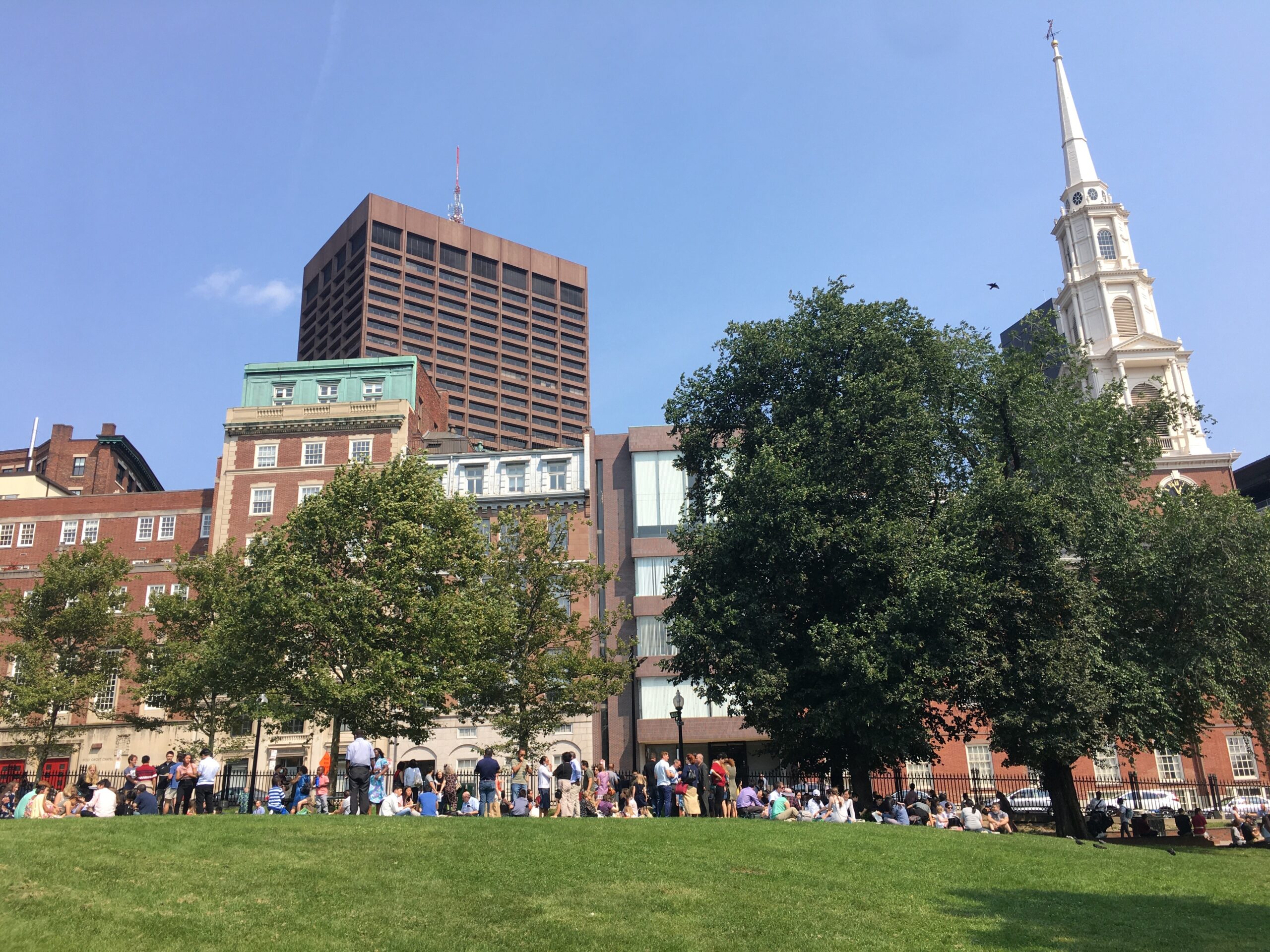 Sunday Services
8:30 AM, 11:00 AM & 4:00 PM
✣
Everything You Need to Know
What Do We Believe?
We believe we are all sinners and are in need of a savior. Find out more about our statement of faith here.
What Should I Wear?
Everyone wears what they are comfortable in—you'll see many people in business casual, jeans and a nice button-up shirt, or their favorite New England sports team. Our morning services are a little more formal while our evening service is a little more laid back.
Where Can I Park?
In a city like Boston, parking can be a challenge, so we have partnered with a couple different parking garages to help lower your cost of coming to church
One Beacon Street Garage: $11 on weekends and after 4:00 PM on weeknights. Validate your ticket with the Park Street Church stamp located at the front desk located in the Ockenga Lobby.
Boston Common Garage: $10 on weekends and after 4:00 PM on weeknights with parking coupon. Parking coupons may be purchased (cash only) at the front desk located in the Ockenga Lobby. 
Parking in metered spaces is FREE on Sundays. (Please note: the Boston Common side of Park Street is a no-parking zone; you could be ticketed for parking there.)
Who attends Park Street Church?
Young, old, married, single, students, business professionals, people who live in Beacon Hill and people who have no permanent residence, people from around the globe.
Our historic building is a vital part of our worship and service, but it can also be confusing for newcomers. If you find yourself unsure where to go, we have people available to help you find your way. To help you before you arrive, feel free to download a map of our building.