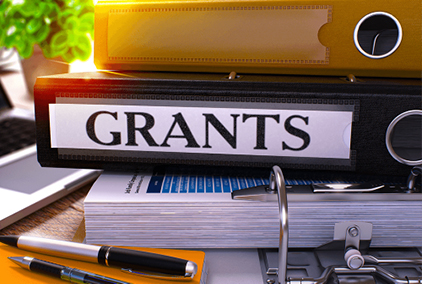 In the early days of the pandemic, Park Street Church organized a COVID Rapid Response team with a focus on mobilizing quickly and jumping in to action to support other organizations in the communities as they provided people with food and other essentials.
As the pandemic continued and the economy struggled, it became clear that the challenges of food insecurity along with filling other basic needs were not going away any time soon. There was a need to develop long term resources that could continue to provide care for people through out the long recovery. There were funding sources, but they required lengthy, convincing  applications.
The call went out for grant writers, specialists with a talent for words and a keen understanding of how to tell a compelling story. The result was a team of five who would work around their own busy schedules on nights and weekends doing the often unseen work of explaining the special needs of partner organizations. The role provides a unique perspective on God's work in the relief efforts. Prayer is the foundation of it all.
"We do a lot of praying," said Project Manager Judi Manola. "We pray that God will show us where to apply and we pray that he will be favorable and allow for the grants to go through."
The team also prays for the people they're working with, the health of the volunteers, and the peace and well being of the volunteers.
The team's efforts were rewarded this week when they learned that their application won a grant of $24,000 from the Boston Resiliency Fund for the East Boston Central Assembly of God. The funds will be used to support twice-weekly distributions of food to community members. That includes buying fresh produce from a local grocer to help sustain the local economy.
The grant was written with the help of Julie Nusser and Yidi Wang.
"We rejoice in God's provision," Judi said. "This is what we had hoped for this church to be able to continue the important work that it's been doing. This will make a difference for the people in that community."
Judi started writing grants for Park Street Church after retiring from the Dana-Farber Cancer Institute, where she worked at an operation that was funded entirely by grants. At Park Street, the grants have included the Steeple Restoration project and the organ restoration.
"With grant writing, you're always trying to tell a story and convince people that you would be a good place for them to send their money," she said.
A grant writer also needs to be detail-oriented and able to pick up on all the things the funding source is looking for.
Working with other churches and helping to find funding for their projects brought an added challenge.
"We are acting in a servant capacity here," Judi said. "Our job is not to tell them how to run their food pantries or their projects. We have to stay in our lane and make sure we're approaching the work with a servant heart. We're doing this on behalf of these churches."
The team is still waiting for word on a grant that was submitted on behalf of the FCC Revere Food Pantry. The funds would be used to prepare the church basement to serve a crowd that has grown significantly through the pandemic.
The grants are just one of the many things the writers are working on.
Abigail Gabrielse has a full-time job, a husband with a full-time job, a kindergartner, and a pre-schooler. She and her husband have also been taking turns volunteering at the Revere Food Pantry.
"It's actually been exciting to manage some volunteer work during the pandemic, as we weren't able to do when we were commuting regularly," she said.
Rachel Park lives in Boston and works in business operations for a SaaS company.
"I love how this grant project has helped me to meet more people at Park Street and learn more about the various churches in Greater Boston," she said. "I'm always amazed by the local churches and their desire to serve, especially to those who are facing difficulties due to the pandemic."