"Praise him with stringed instruments and organs."   Psalm 150 (KJV)
Our Aeolian-Skinner pipe organ, op. 1353, was installed in 1960, and is the fourth pipe organ Park Street has owned.
Our three-manual 51-rank instrument has 3,027 pipes across five divisions. With pipes located in towers at the front corners of the meethinghouse and also in a chamber behind the rear gallery, an immersive surround-sound effect is achieved, despite the dry acoustic of the space. Opus 1353 is the very last church organ the venerable Aeolian-Skinner built for its home town of Boston. The dedicatory recital was played by Virgil Fox in January of 1961. Spencer Organ Company of Waltham, MA is carrying out the ongoing restoration and rebuilding of the instrument. As of 2018, Phase I (Antiphonal division) is complete, and Phase II (Great and Swell division) will be completed this summer. Phase III (Choir and Pedal) and Phase IV (console rebuild) will be completed in the future when funds are available. Further details
HOW A PIPE ORGAN WORKS
The Mechanical Musical Marvel from Second Home Studios on Vimeo.
HISTORY OF THE PARK STREET ORGAN
Read more generally about the pipe organ's history and place in Christian worship, as conceived by the organist of Park Street Church in 1958, in a three-part article, The King of Instruments for the King of Kings.
A VIEW INSIDE OUR ORGAN
The music starts at the console: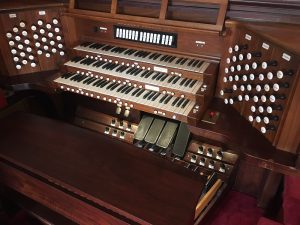 But to make any sound, we must begin with the blower, powered by a 5 horsepower 3-phase motor, located in the steeple just below the clock: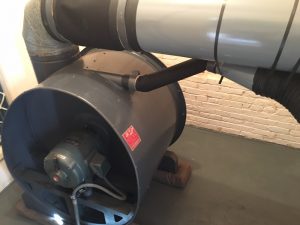 The wind goes through various ducts and reservoirs that regulate the air pressure to a precise degree (each part of the organ receives a slightly different pressure, mostly between 3 and 4 inches of water).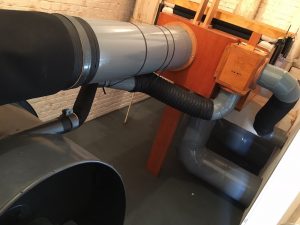 More in the pipe chambers themselves: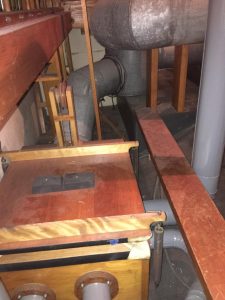 Numerous mechanical switches control the 12-volt DC current that activates the solenoids that admit air to each pipe, allowing the organist to control which sets of pipes sound together on the various keyboards – at multiple octaves if so desired. Solid-state switching is used in newer organs, but these mechanical switches still work reasonably well. Many of these switches have 61 individual contacts each, one for each note of a particular set of pipes: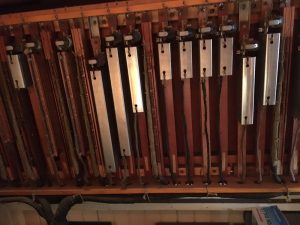 Some of the pipes sing directly into the sanctuary, behind the facade: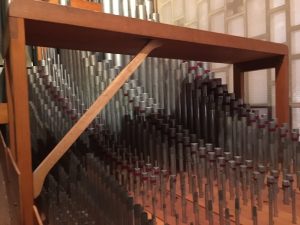 While some are in insulated thick-walled boxes with heavy moving shutters (right), which allow the organist to control the volume of these pipes: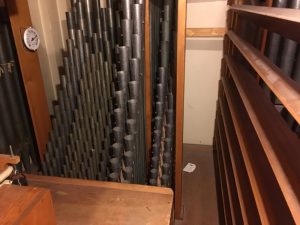 All together, these thousands of moving parts function together to lead God's people in song.